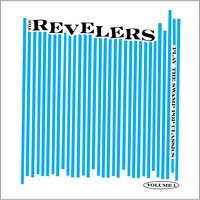 On this four-track, vinyl-only EP, the Revelers maneuver through a diverse set of arrangements with an atypical swamp-pop arsenal that includes accordion and fiddle.
A rollicking rendition of "Let the Good Times Roll" kicks off the proceedings and is sung in both English and French—just as Clifton Chenier used to do. But instead of being another zydeco knockoff, the arrangement follows Bobby Blue Bland's Chicago-shuffle version, which ties in well since many a popper was influenced by the Chicago shuffle.
"The Lonely Room," composed by the late Jerry LaCroix of the Boogie Kings, is virtually cinematic with Chas Justus' dreamy guitar solo and the Duhks' violinist Rosie Newton plucking the strings. In between its majestic swoons, it's interesting to hear the unusual combination of fiddle, sax and guitar playing the melody in unison.
The instrumental "Who's Afraid of Virginia Woolf" is a creative hybrid of zydeco, quasi-bebop jazz and soul/R&B adhering to Boogie Kings' Clint West's arrangement when the Kings played the Purple Peacock in Eunice.
Though the title may be the Revelers Play the Swamp Pop Classics Vol. I, this release is really a deep dive into various facets that otherwise may not be intuitively obvious.