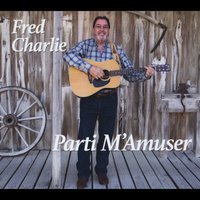 Though not as recognized by some, Fred Charlie has contributed to Cajun culture over the years through his songwriting, recording studio, radio shows and Cajun French language instructional CDs. The impetus for this particular recording were Charlie's five new songs, which range from lighthearted fare such as dancing and playing music to more serious matters like tragedy and love lost. "J'apris Partir Marron" deviates from the dancehall spirit with a stark twin fiddle, acoustic guitar and slow bow-drag upright bass accompaniment. "Marron," a cultural reference to an outsider who mysteriously appears without a past, tells the story of a fleeing fugitive who will never see his family again.
But instead of billing this as Fred Charlie and the Acadiana Cajuns, Charlie instead enlisted his competent group of monthly jammers, consisting of over 20 musicians, including 7 accordionists and 6 fiddlers. Despite these constant personnel changes, the proceedings maintain a reasonable sense of continuity.
Additionally, Charlie reprises his "Mom, Dis Moi," which was recorded by Cajun Tradition on its 1988 Grammy-nominated debut A La Veille Facon. "La Lettre," previously recorded by Donald Fontenot et Les Amis De La Louisiane, is also a Charlie original but has never appeared on any of his recordings until now. Though he isn't exactly a crooner, his phrasing has always been clear and his diction formidable.